Best of Staffing, Client Satisfaction – ClearlyRated
ClearlyRated's Best of Staffing leverages third party validated survey responses from employment agency clients to provide statistically valid and objective service quality benchmarks for the staffing industry, revealing which firms deliver the highest quality of service to their clients.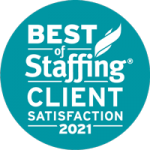 Boston Business Journal's Largest Executive Search Firms – Ranked #2
Ranked second out of 22 companies, PharmaLogics has been named to the BBJ list of Largest Executive Search Firms in Massachusetts for three consecutive years. The list was created based on 2020 Massachusetts office executive search revenue, referring to the placement of individuals in full-time executive-level jobs paying at least $100,000 per year.